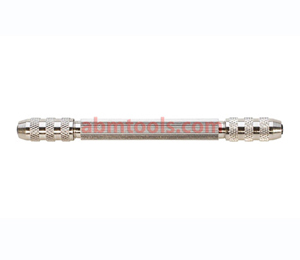 Print
It is recommended for jewelers, lapidary, hobbies and crafts, modeling, home repair, etc. This double end pin vise can be used as a hand drill with small twist drills. It has 2 double ended collets for holding wire, stock or tubing for filing. It holds burs, files, reamers and more.
Compare
Product Description
• ITEM CODE NO ABM-JWT-8007
• All Brass Body.
• Ideal for holding small jobs.
• Accurate collets.
You may also like…
Square Chuck Pin Vice

An extremely versatile tool that no jeweler should be without. Great for holding solder wire during stick soldering, drilling very small holes with twist drill bits, and using as a screwdriver. Very useful for wire wrapping projects and beaded jewelry designs.

Read More

Double Collet Pin Vice

It is recommended for jewelers, lapidary, hobbies and crafts, modeling, home repair, etc. This double end pin vise can be used as a hand drill with small twist drills. It has 2 double ended collets for holding wire, stock or tubing for filing. It holds burs, files, reamers and more.

Read More

Brass Pin Vice – Mini Pin Vice

This pin vice will service your needs whether it is for watchmaking or jewelry design and repair. Can be used to hold broaches, screwdriver blades, drills, earring studs, watch crowns and more. The Steel collet is set into hollow brass handle with screw down chuck.

Read More